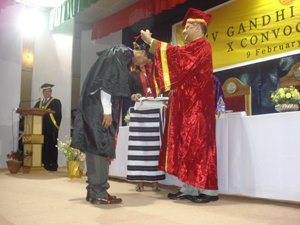 About HCTE
Hills College of Teacher Education (HCTE), a premier private institution to spread and upgrade Teacher Education in the state of Arunachal Pradesh in particular and in the country in general was established in the year 2003 at Naharlagun one of the prime towns of the state with the pioneership of Shri Nabam Rebia, the founder chairman under the patronage of "Tribal Areas Development Society", a registered Voluntary Organization registered under Section 3 of the Societies Registration Act, 1860 which is committed to provide Professional Education to its aspiring students in the emerging areas of Professional Education.
The institution has been accorded Permanent Affiliation by the Rajiv Gandhi University (formerly Arunachal University), Rono Hills, Arunachal Pradesh vide Notification No. AC-590/HCTE/2005/199 dated 3rd May 2013. At present, the institution offers Two (2) years B. Ed course in affiliation to Rajiv Gandhi University, Rono Hills, Arunachal Pradesh vide Registration No AC-590/HCTE/2005 dated 04th May 2006 (Revised Order No.AC-59/2008/V-II/137, dated 13th April 2015) and duly recognized by the Eastern Regional Committee(ERC), National Council of Teacher Education (NCTE) vide Order No. ERC/7-64.10.0/2006/442-447 dated 18th Feb. 2006 (Revised Order No. ERC/NCTE/ERCAPE00531/B.Ed.(REVISED Order)/2015/31612, dated 9th May 2015). In addition to this two years NCTE, recognized B.Ed. program, the college has also been awarded permission by the Rehabilitation Council of India(RCI), New Delhi to run three B.Ed. Special Education Courses in three vital areas of Learning Disability(LD), Visual Impairment(VI) and Hearing Impairment(HI) from academic session 2015-16. Besides, the college is also awaiting for the reorganization letter from the ERC, NCTE, Bhubaneswar, to run another new program i.e. two years M.Ed. program from academic session 2016-17.

The state Govt. of Arunachal Pradesh, Department of Higher and Technical Education has also given clearance to run the institution vide letter No. ED/HE-602/2003. It has also extended the Arunachal Pradesh Stipend Scheme 2001 facility vide letter No. ED/HE-78/87 dated 14th march 2007 to the bonafied Arunachal Pradesh Scheduled Tribe Teacher -Trainees of this Institute to promote professional education in the state. During the academic session 2015-16, the college has also been permitted by Govt. of A.P., Director of Higher and Technical Education to introduce National Service Scheme (NSS) in the college in integrating the needs of current system of education with the needs of the community/ society.
The Institution promotes innovative works and researches in the field of Teacher Education by conducting Action Researches, organizing work-experience activities, field studies and seminars, developing indigenous Teaching-learning materials and practicing rigorous skill-based training programmes and other activities to bring out behavioral changes in the Teacher-Trainees in particular and upgrading Teacher Education in general.